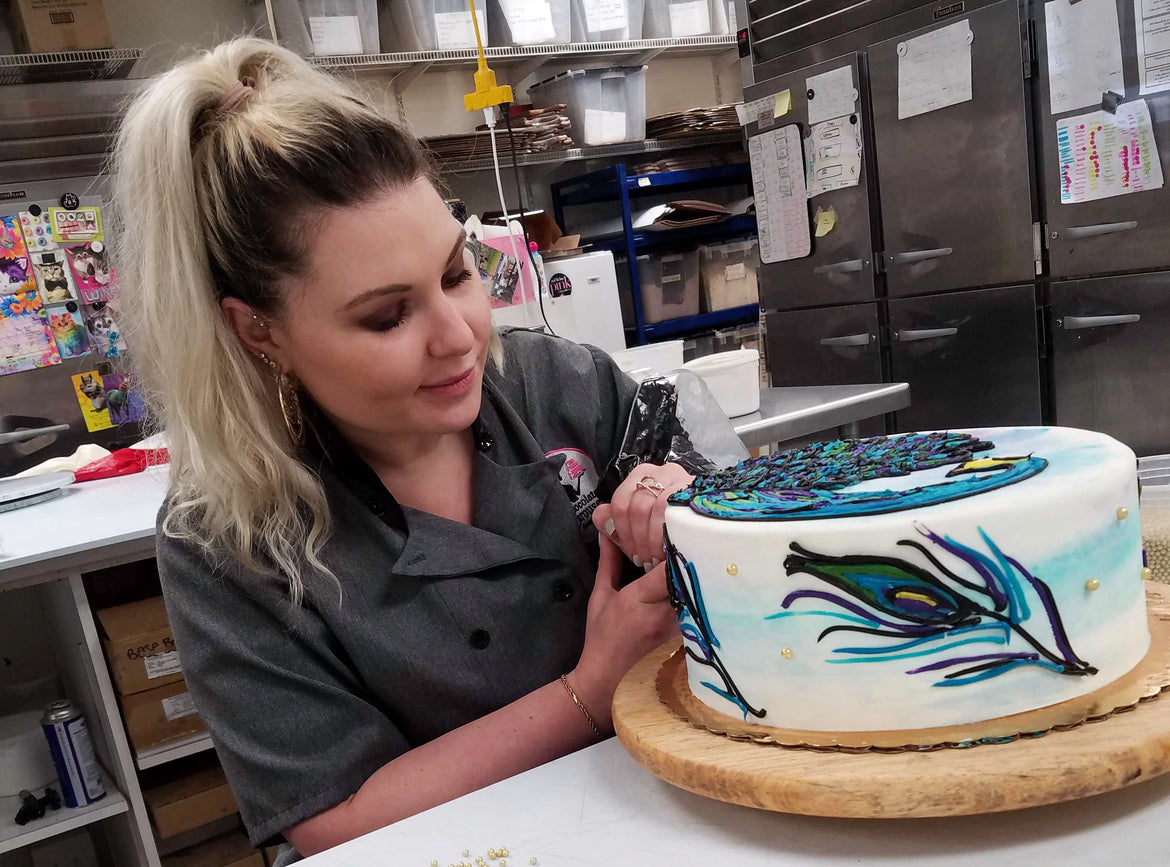 Meet Jen, lead Pastry Chef at Chocolate Carousel!
We have a great team at Chocolate Carousel and everyone plays an important role. We would love to introduce you to Jen, our lead pastry chef. It's not easy being a pastry chef, find out exactly what Jen loves about the job, something she wants everyone to know about Chocolate Carousel, and some advice she has for any prospective pastry chefs!
So Jen, what is your favorite part of the job?
"My favorite part of the job would have to be my freedom to create. I love looking at a blank cake and thinking of it like a canvas. Being able to decorate a cake based on an idea and see it come to life is beautiful. Even coming up with new recipes, I can't tell you how often I will wake up at 3AM with an idea. Later, I'll try to figure out a way to make it better and create something completely new. Just like the eolís, it's as if a cannoli and éclair got married. Being different and unique, it's an art."
What is something you wish other people knew about Chocolate Carousel?
"Our dog cookies are so much fun! For every two bags we sell here at bakery, we donate one to a shelter in need. After losing my dog Daisy, I sat down with Lisa (The owner of Chocolate Carousel) and we came up with a way to give back in her memory. Since then, we lost 2 more family dogs and now have 5 flavors of cookies. All of the cookies are made with human grade ingredients and dogs love them! It's important to give back and I love going to play with the puppies at the shelters when we donate."
Last question Jen, what would you tell someone who is thinking about becoming a pastry chef?
"If you have a passion for both art and food- then do it! The hours are long and some nights the work is stressful but to do something you are truly passionate about makes you feel even more accomplished and satisfied when the work is complete. I love the feeling when someone picks up their cake and loves it. It's your creation, that's your passion they appreciate. This isn't a job you fall into because your first idea didn't work out, this is a job you chose because you love how it makes you feel."
 .
.
.
Jennifer Cardella graduated from Southern New Hampshire University in 2010 with an associate's degree in Bakery & Pastry arts. She was honored to receive the "Baker of the Year" award at her graduation. Shortly after, she joined the team at Chocolate Carousel. She loves putting a new twist on recipes to make them more unique.
Within the past 10 years, she has worked hard to grow within the company to her current role as lead pastry chef. Equal to her love for baking, Jen enjoys decorating and is an accomplished wedding cake designer. With an eye for detail, she is constantly coming up with new ideas and techniques to keep both herself and the bakery moving forward toward a bright future.